Engineering
Earlham's new engineering program is about more than systems and structures—it's about approaching the messy, complicated problems of our time with a sense of compassion and justice.
Through this program, you will gain the expertise and skills you need to pursue a career in engineering, while benefitting from the perspective-building, life-changing liberal arts education at Earlham provides.
Earlham's engineering major has been designed to appeal to a diverse range of students, including those who have been historically underrepresented in engineering.
At Earlham, you will expand your knowledge and experience of social, economic and environmental issues. In doing so, you'll learn how to use engineering to build a better world. Whether traveling the world or working in our community, you will be immersed in the very questions you will later seek to answer.
This is engineering for good.
Is the program accredited?
As a new engineering program, we are on track to be accredited by Accreditation Board of Engineering and Technology (ABET) after our first cohort graduates.
Start your adventure
Sign up for more information about Earlham College.
An Epic approach to engineering
Your four years at Earlham promise to be an Epic Journey, and we'll be by your side the entire time. Your academic advising starts before you even set foot on campus, and a team of advisers and mentors will help you navigate your schedule, find courses that match your interests, and guide you toward opportunities that will enrich your experience as an engineer and global citizen.
Your time at Earlham is designed to prepare you exceptionally well for life after Earlham. Through the Epic Journey we will support your career aspirations and help you secure transformative learning experiences. A key part of this is the Epic Advantage, which offers every student the chance to participate in at least one funded internship, research experience, or community-based project before graduation.
Expand your perspective
Engineering can intersect with many different fields, and we offer cross-listed classes so you can study engineering in a way that uniquely matches your interests. For example, you could study how science and technology policy affects engineering or consider how engineering would be necessary when constructing a large piece or artwork like a sculpture.
Explore your interests and learn about a new field, while fulfilling the requirements of your engineering major.
Engineering for Good
"Engineers not only determine how problems are solved, they also have a say in which problems are chosen to be solved. Both of these considerations have deep implications for social good and equity. With Earlham's focus on 'Engineering for Good' and our traditions of excellence in the liberal arts and social justice, Earlham engineers will be prepared to address the most pressing challenges of our time with compassion and creativity."
— Michael Lerner, professor of physics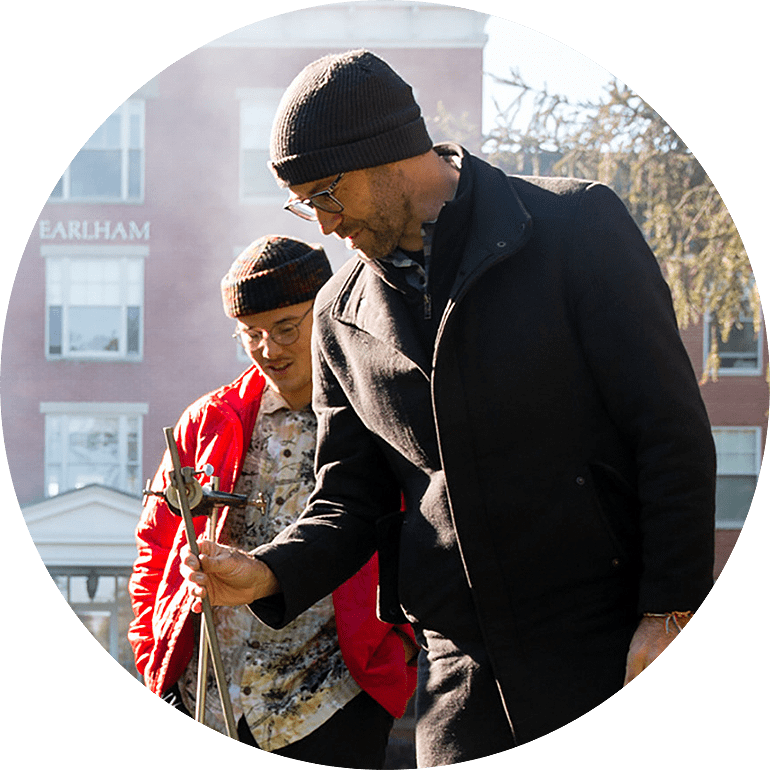 Our faculty
Our faculty bring diverse perspectives and a wealth of knowledge to our classrooms. We have expertise in various areas of engineering—from structural art to environmental sustainability to technology and science—and our work experience spans a multitude of organizations, positions, and countries.