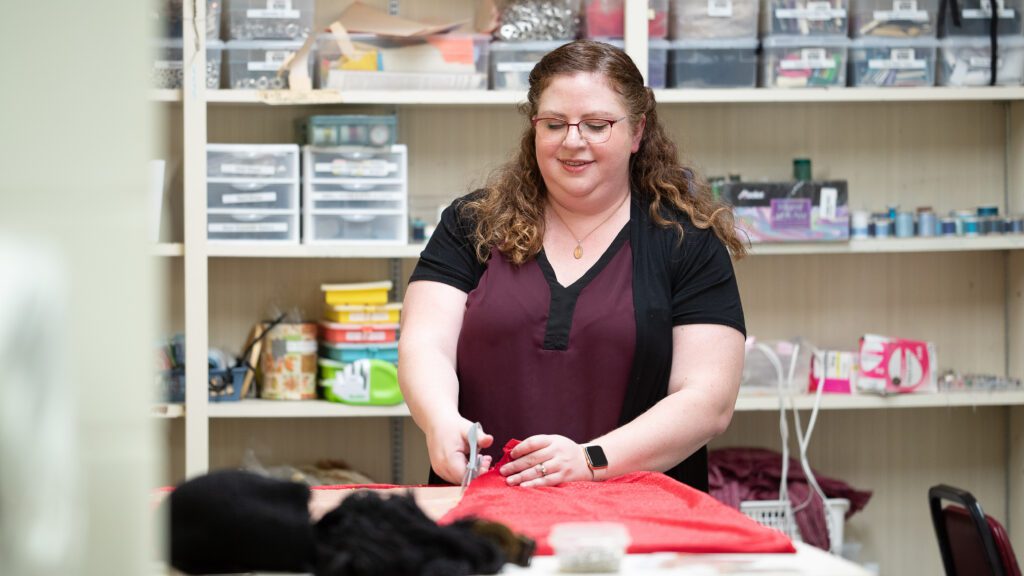 Assistant Professor of Theatre Arts Mia Slayton is bringing her passion for costume and set design to the Richmond community.
Slayton was the lead costume and set designer for Richmond Civic Theatre's recent production of "Miss Holmes" and joined the organization's board of directors earlier this year.
"I've worked with Richmond Civic Theatre in the past but we've really formalized that relationship this year and are bridging gaps between the two organizations," Slayton said. "I'm especially excited about identifying additional opportunities for Earlham students to get involved and contribute to the outstanding work happening at RCT."
"Miss Holmes" ran for two weekends at RCT's Murray Theater in January. Three other members of the Earlham community made contributions to the production. Sarah Sexton, assistant director of stewardship, played the lead role of Sherlock Holmes. Senior Mike Martin played the role of Reginald Featherstone. Sophomore Austi Jenkins was an assistant costume designer.
"This is one of the best casts I've ever worked with," Slayton said. "Everyone was really friendly and supportive of one another because for some people, this was their first time doing stage management or directing. I was also mentoring them through the process. It was nice working on the show from all angles."
For "Miss Holmes," Slayton created original costumes for three characters and made pieces and borrowed aspects of costumes from past Earlham productions to round out the overall design.
"I love seeing how my work changes by being embodied by the actor," Slayton said. "They make them look better. They make them come to life. It warms my heart to see them interact and see them become the character once they put on my clothing."
RCT originally performed productions at Earlham prior to making the Murray Theatre its current home. Becky Jewison, a director, former board member and founder of Stage One Youth Theatre Program, was also a costume shop manager and professor at Earlham.
"We have a long history together and, in many ways, our two organizations are synonymous with one another," said John Faas, the executive director of Richmond Civic Theatre.
"Having someone with Mia's professional experience and skills is immensely helpful to RCT," he said. "Her extensive knowledge in technical theatre, particularly costuming, can only make us better as a theatre company—even more so having her voice on our board of directors."
Slayton came to Earlham in 2013. She teaches courses on stage design, stage management and theatre history. She designed costumes for Earlham Theatre Company's productions "Persephone UNCUT," "Company," "The Misadventures of Martin Hathaway," "Women Playing Hamlet," and "Much Ado About Nothing." She also designed productions for the Richmond Shakespeare Festival, Minnetrista Theatre in Muncie, Indiana, and Phoenix Theatre in Indianapolis.
Prior to Earlham, she sewed for Chapman University in Orange, California, and designed the short film "Jagerbar." Other production credits range from classics like Anton Chekhov's "The Cherry Orchard" to contemporary works like "Urinetown: The Musical" to premiere productions of new plays.