Visit and explore Earlham College
Get to the heart of Earlham College—by seeing "The Heart" for yourself. There is no better way to experience Earlham's unique campus than to tour campus and meet the people who make up this dynamic community.
Whether you're a high school student thinking about college or a current college student who's interested in transferring, see for yourself what Earlham has to offer. We're taking every precaution to offer safe in-person visits; virtual visits also are available.
We're committed to providing a safe environment for our faculty, staff, students and guests. Please read our on-campus visit FAQs regarding our visit guidelines during the pandemic.
---
Upcoming events
Admitted Student Weekend
February 20-21, 2022
Join us for team building, EPIC discovery, community meals and an optional overnight stay in our residence halls. You'll also be able to meet teaching faculty, participate in student and family panels and explore your housing options on campus. Log in to your applicant portal to register!
On-campus visits
Please read our on-campus visit FAQs regarding our visit guidelines during the pandemic.
Due to rising COVID cases in our area, Earlham College will be conducting all visits virtually up to January 24th, 2022. Please register online for a virtual visit.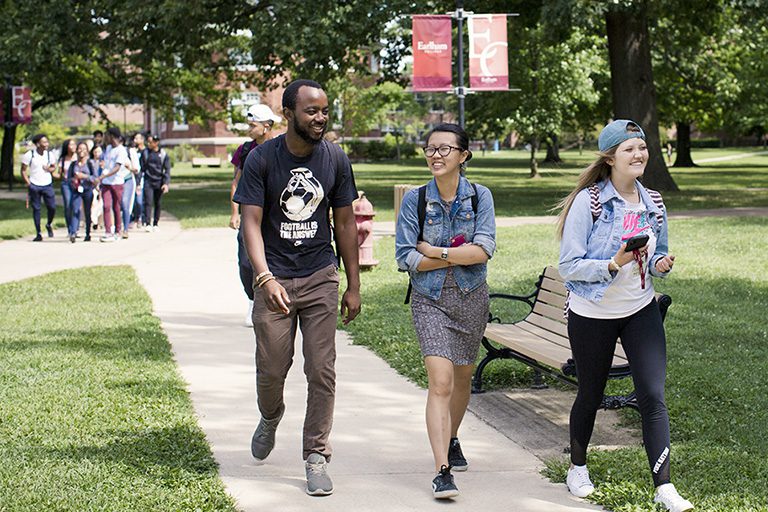 ---
Although we love hosting visitors on our campus, we know it's not always possible to visit in person. During your virtual visit, you'll attend an information session and get a virtual tour of campus.
High school juniors and seniors and transfer students also have the option to virtually interview with an admissions counselor during their visit. We also offer special virtual programming on a variety of topics ranging from academic majors to student life. Click the button below to view the full schedule of upcoming virtual events.
Open house from December 11, 2021:
Tour Earlham from the comfort of your home
We understand that visiting campus isn't always accessible whether it is because of distance, health concerns or just a hectic schedule. Check out our campus online through YouVisit!
Schedule your visit today
The best way to know whether Earlham is right for you is to see it—and experience it—for yourself. Come explore our beautiful campus and get a feel for our remarkable community.