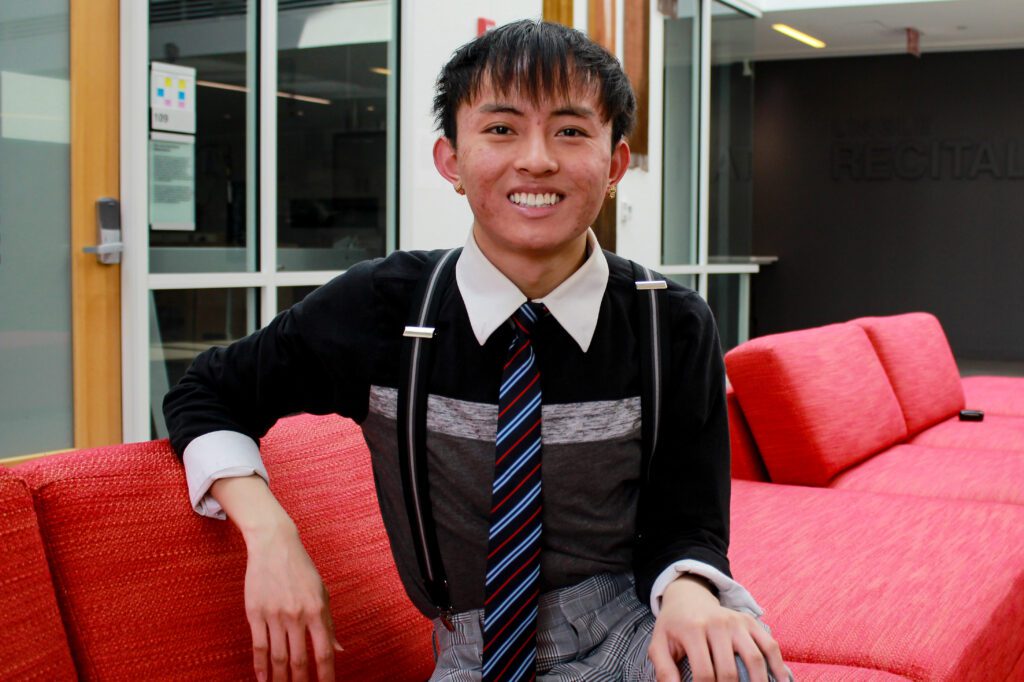 John Hoang, a 2023 Earlham College graduate with a degree in politics, has been selected for the Bill Emerson National Hunger Fellowship.
Named after the congressional leader who founded the Emergency Food Assistance Program, the fellowship trains and inspires new leaders in the movement to end hunger and poverty in the United States. Just 15 fellows were selected for the 2023-24 cohort from a pool of 250 applicants from across the United States.
Fellows receive a stipend that covers living expenses for the entire year and gain vital first-hand experience through placements with community-based organizations across the country as well as policy-focused organizations in Washington, D.C. The program bridges gaps between local efforts and national public policy. Fellows support partner organizations with program development, research, evaluation, outreach, organizing, and advocacy projects.
"This is life-changing for me," Hoang said before graduating earlier this month. "This is an opportunity to absorb as many experiences as I can in the anti-hunger and anti-poverty movement and be a part of meaningful change.
"Past Fellows have presented their research and findings to Congressional leaders and work with thinktanks like Brookings," he said. "They leave the program with connections from all over the country."
Hoang's community-based placement will be announced in August after an orientation.
"For me, this journey is about how communities unite and band together to address systemic issues in the fight to end hunger," Hoang said. "There is only so much communities can do. The government needs to step in and do all of the hard policy work so people aren't starving or donating their blood so they can feed themselves on a daily basis."
A native of Albuquerque, New Mexico, Hoang's interest in politics and public policy was awakened by the anti-immigration sentiment that dominated Donald Trump's successful presidential campaign in 2016.
"We have a very loving, welcoming immigrant community in New Mexico," Hoang said. "On the day after the election we had a day of mourning. It was very concerning to us that someone like Donald Trump could ascend into such a powerful office.
"For the first time in my life it felt like the country voted to erase the existence of so many people," he said. "It felt like all of the social constructs that enable this kind of violence—racism, misogyny, xenophobia, transphobia, homophobia—came at me all at once. It was an onslaught."
Hoang's Earlham education afforded him opportunities to gain first-hand experience working with leading immigration advocacy groups and complete extensive coursework in politics and public policy.
During the height of the Covid pandemic, Hoang remained in New Mexico and took classes remotely. He volunteered with the New Mexico Immigrant Law center and worked alongside immigration attorneys to process paperwork, including DACA renewal forms. A Bonner Scholar, Hoang did similar work for the Asian Pacific American Legal Resource Center during a semester with the Washington Internship Institute.
During the summer of Hoang's junior year, he was selected for a scholarship to participate in the Public Policy and International Affairs and Fellowship program at the Evans School of Public Policy and Governance at the University of Washington. The program focused on public policy as it relates to homelessness.
Hoang often turns to the arts as a respite from the polarization of the political world.
"Often my anger and frustration stem from feeling defeated and cynical in my efforts to address institutional barriers to equality," Hoang said. "I have found this process of removing barriers to be more difficult to endure than the systemic inequities I want to change."
Currently, Hoang is an intern with Art Bound, an organization based in Berlin, Germany, to preserve the stories of Holocaust survivors. His internship, which is funded by Earlham's Epic Advantage program, tasked him with locating survivors in the United States willing to share their stories. Elizabeth Edelstein, an Earlham graduate from the Class of 1976 and the vice president for education at the Museum of Jewish Heritage in New York City, is assisting with the project.
Before the start of the fellowship, Hoang is pursuing additional internship opportunities with the Democratic National Committee, the Democratic Senatorial Committee or Dear Asian Youth.
"My Earlham education has taken me places that the 18-year-old me never would have thought was possible," Hoang said. "I've had the opportunity to see all the corners of the United States and be proactive and engaged in each of these communities. This is something I really appreciated and hope to continue the rest of my life."