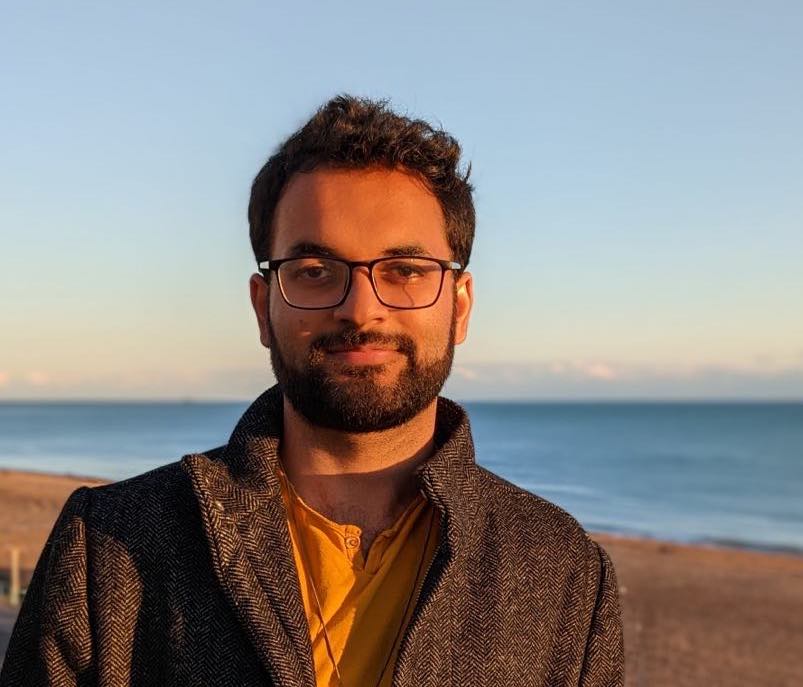 Earlham graduate Arish Mudra Rakshasa-Loots recently moved to Edinburgh, Scotland, to continue his Ph.D. research on the causes of high rates of depression among those with HIV and AIDS. His passion for the topic began with a course he taught as an Earlham student, and blossomed with his year of travel as a Watson Fellow after he graduated in 2019.
Mudra Rakshasa-Loots traveled from Ghaziabad, India, to attend Earlham. During his college career, he studied abroad and took leadership positions in student government and student-run clubs while obtaining a double major in neuroscience and biochemistry, and a minor in ancient and classical studies.
His ambition also led him to teach a student-led course in his sophomore year. It was called Condom Sense: HIV/AIDS in the 20th century.
Student-led courses are an option at Earlham, but they don't happen very often. Professor of Biology Peter Blair sponsored the course. "Everyone was very supportive of me leading this course and happy about the value that it added to the Biology course offerings that semester," Mudra Rakshasa-Loots remembers.
"The primary driver here for me was to teach students from a broad range of academic backgrounds what I believe are the core scientific skills: the ability to question, and the ability for independent thought."
The course was divided into three modules: biology, psychology, and sociology. Students in the course came from different areas of study, which made the discussion-based course more interesting. Mudra Rakshasa-Loots brought in guest speakers and selected readings across disciplines.
"The Earlham community nurtured this spirit of collaboration and interdisciplinary research for me by letting me explore, make mistakes, and grow into new fields of inquiry."
Teaching the class also planted the seed for HIV/AIDS research. "This course was a very early lesson in my academic journey towards becoming an HIV researcher," he said. "An issue as multi-faceted and complex as HIV/AIDS cannot be addressed without a diversity of perspectives in the room."
Mudra Rakshasa-Loot's next dive into the subject was during his travels as a Watson Fellow following his graduation.
The Thomas J. Watson Fellowship is a competitive grant offered to college graduates that allows recipients to travel and study independently for a year. It is meant to "enhance their capacity for resourcefulness, imagination, openness, and leadership and to foster their humane and effective participation in the world community."
"The Watson is unique in that you don't have to produce a deliverable," Mudra Rakshasa-Loots said. "It's supposed to exist outside of career trajectory. That said, my Watson did lead into my aspirations."
Before starting the Fellowship, he planned to go into immunology, but his project shifted that.
"My project was looking at HIV healthcare and activism," he says. "The idea was for me to engage with people and organizations doing work to disrupt the HIV pandemic." He spent time in Australia, Chile, Spain, Italy, Malta, France, Switzerland and South Africa. The organizations he worked with varied greatly from the United Nations Program on HIV/AIDS to a nonprofit someone ran out of their flat.
"The biggest thing I learned was to be more flexible and adaptable," Rakshasa-Loots reflects. "I kind of have this reference point that anything I do now won't be as difficult as the Watson, so I know I can do it."
In terms of his future in HIV/AIDS research, Mudra Rakshasa-Loots was most struck by a conference in Spain where he learned that the next big priority in HIV is mental health. He explains that there are high rates of depression among those with HIV/AIDS, which is definitely impacted by social stigma around the disease, but it could also be connected to the fact that HIV is an inflammatory condition. Figuring out if that's part of the reason for the high rates of depression could change the way doctors treat their patients with HIV/AIDS.
"Depression isn't just one disease; it's a constellation of symptoms," Mudra Rakshasa-Loots explains. "A subset of people is dealing with depression driven by an inflammatory issue, so we may be able to treat it with anti-inflammatories."
Mudra Rakshasa-Loots chose to attend the University of Edinburgh for his doctorate so he could pursue his research in translational neuroscience. "My focus is in HIV mental health—depression specifically," he explains. "My question is why people living with HIV have such high rates of depression compared to those not living with HIV."
Oftentimes, doctoral students have to apply for research funding, which can dramatically shape a student's project. "At the University of Edinburgh, I have my own grant funding from the Wellcome Trust," Mudra Rakshasa-Loots says. That way, he gets to shape his project, which was a big draw for him.
Shaping his research has allowed him to make it interdisciplinary, which is important when researching mental health and an inflammatory disease like HIV/AIDS.
"In my everyday work as an HIV neurovirologist, I collaborate closely with and bring together doctors, nurses, social workers, psychologists, neuroscientists, statisticians, immunologists, healthcare activists, and—most importantly—people living with HIV."
Reflecting on the course he taught at Earlham, he says, "It is only when we work across artificial disciplinary silos that true creativity shines through in research, which was evident in this course where we had folks from neuroscience and English thinking and working together on issues of HIV epidemiology and stigma."
In addition to his focus on interdisciplinary work, Mudra Rakshasa-Loots also endeavors to make science more accessible to the public.
He's working as a researcher on a project to improve diversity, equity, and inclusion in UK higher education. "This work has been informed by my engagement with the Institutional Advancement office at Earlham," he says.
Another important aspect of accessibility is making scientific studies engaging. "Earlham helped me be a great writer," he says. "Science can be written so dryly, but I try hard not to replicate that. I try to write the introduction and conclusion in a way that can be understood by anyone, even people who aren't scientists."
He often comes back to the question: "Are you really creating knowledge or are you just in an echo chamber where only your colleagues can understand what you're writing about?"
Once Mudra Rakshasa-Loots completes his Ph.D. program, he plans to apply for research positions and also teaching positions at liberal arts colleges. No matter where his research and teaching take him, he feels prepared.
"Earlham encourages generalization rather than specialization," he says. "It's still hard to be a generalist in a specialized field, but Earlham gave me versatility so I can go between fields. I know I can learn whatever I need to."
That abilities to go between fields, conduct meaningful research, and write accessibly serve Mudra Rakshasa-Loots well as he challenges the scientific field. "The golden thread running through my work as a scientist is a recognition of the fact that science, like all else, is political," he says. "The false assumption that scientific research is objective and somehow immune to personal biases has run its course."
He is part of a larger movement to replace those false assumptions with better practices. "Many young scientists, myself included, are challenging our fields to place the principles of equity, diversity, and inclusion front-and-center in our work," he says. "As a queer brown immigrant, I continue to find myself in rooms deeply invested in upholding power systems, yet I also continue to firmly speak truth to power—a skill that I honed during my time at Earlham."
This story was written by Somer Eckert, Class of 2017.