English
The English major at Earlham explores the power of literature to shape the world, including a specific focus on literature and social justice.
In the program, you'll encounter a broad diversity of voices, both those that have been canonical for centuries and those that have been silenced throughout much of history. You'll take classes that focus on specific genres (e.g. poetry, drama, or the novel); theoretical approaches to literature; and themes of peace and justice, including race, gender, sexuality, class, colonialism and environment.
The major includes both past and present writers, from the United States and Great Britain as well as a wide range of other English-speaking countries.
Start your adventure
Sign up for more information about Earlham College.
90%
of work seekers who majored in the humanities between 2018-2022 were employed, pursuing graduate school or volunteering within six months of graduation.
Careers
Top industries for recent graduates include education, journalism, media and publishing, non profits and more. Recent graduates have also gone on to pursue advanced degrees at institutions such as Washington University in Saint Louis, School of the Art Institute of Chicago, University of Cincinnati and Georgetown University.
Outcomes
Alumni have become Fulbright scholars and teachers or have gone into graduate programs in English, journalism, literature and social work.
"Earlham's English major has taught me that our skill as writers is only as good as our ability to read and interpret. Through a willingness to listen, learn, and develop new understandings, our role as English majors is to apply these skills towards shaping a more equitable and just world—starting right here, in the classroom."
George Morpurgo, '22 
English major
"My degree refined my writing, public speaking, and presentation skills, which are all relevant to the media industry. My English professor Scott Hess helped me understand how to write for professional and academic purposes, and how to influence people through my writing. His critical yet encouraging style of teaching helped enhance my social and technical development for communication through oral and written media, ultimately building my confidence for public speaking. This development was important to preparing me for the real world of work and academia."
Grace Mulamba '20
English Major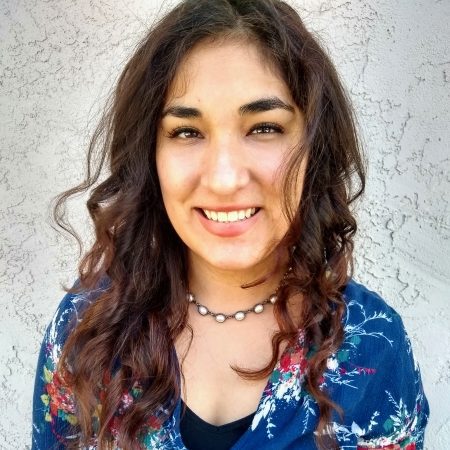 "Majoring in English was always a dream of mine. The Earlham English major and the Creative Writing minor are what really opened doors for me. Excellent course curriculum exposed me to diverse works by the likes of Rudolfo Anaya, Claudia Rankine, and Arundhati Roy. The Crucible Editorial Internship allowed me to find my true passion and I am now pursuing a career in publishing. For that, I'll always be grateful to Earlham and to all of my professors."
Illianna Gonzalez-Soto, '20 
English major
"I fell in love with the English major because it opened up whole other areas of experiences that I'd never been exposed to. I'd been missing out on the experiences people had in their lives that show real issues. Literature allows us to learn about other perspectives from people who have not been allowed to speak before."
Stephanie Petry '18
English and chemistry major
"The Earlham English major not only gave me a strong foundation for graduate school, it introduced me to methods of thoughtful engagement with literary history in ways that deeply impacted me as an educator and cultural critic. Whether I am teaching Shakespeare in the classroom or recording podcasts on game studies for a public audience, I aim to extend the ethos of insight and compassion that defined my Earlham English major experience."
Michael Lutz '11
English major
Previous
Next
Readers, writers and thinkers encountering the world
Earlham English students study off-campus, successfully pursue post-graduate fellowships like the Fulbright and Watson, and use their degree as a foundation for careers based in communication and research.
Study in London
Many English majors spend a semester studying in London, England. On a recent experience, Earlham students developed digital multimedia guides about The Lonely Londoners, Voyage in the Dark, and The Emigrants.
Gain hands-on publishing experience
The Crucible, started in 1956, is a student-run literary magazine that publishes works by Earlham students. Its student-staff gain invaluable experience in editing and publishing.
Our faculty
From Shakespeare to American nature writing to the African diaspora, faculty interests span a wide variety of time periods and literary voices, offering students both depth and breadth in their coursework.
Frequently asked questions
The English major will prepare you to think critically, analyze texts and communicate effectively. Our alumni have built careers as novelists, poets, teachers, librarians, journalists, lawyers and people working in both the nonprofit and business worlds.
In addition to off-campus study programs and research experiences with faculty in places like London and Tibet, English students have also participated in a variety of internships. Recently, students have interned at the Indiana Review as a submissions intern, at GenNow as a media and writing intern and at Writers House as an editorial intern.
Through our 3+1 Education Program, you can earn a Bachelor of Arts (B.A.), Master of Arts in Teaching (M.A.T.) and teaching license—all in just nine semesters.
You'll leave Earlham with two degrees, licensed to teach grades 5-12 in Indiana. (And it's easy to transfer your license to other states—many of our graduates do!)
The English major is for students who enjoy reading literature from a wide variety of perspectives, examining that literature through different lenses and using it as a pathway to understanding human society.
In our English program, you'll develop strong analytical and communication skills, making you an excellent candidate for graduate school programs and careers in education, research, law and communications, among other fields.