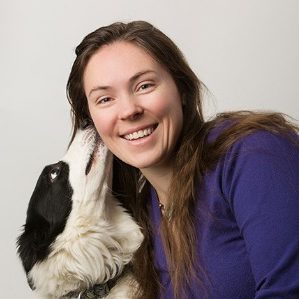 Heather Lerner, Ph.D.
Director of the Joseph Moore Museum; associate professor of biology
Phone:765.983.1402
Email:[email protected]
Pronouns:She/her/hers

Department: Biology
Museum Studies
Program: Anthrozoology applied minor
Art, Nature and Conservation applied minor
Joseph Moore Museum
Location: Joseph Moore Museum
801 National Road
Richmond, Indiana 47374
About me
I work with students both as director of the Joseph Moore Museum, Earlham's natural history museum and in the biology and museum studies classrooms. I have led off-campus programs in Hawaii and New Zealand.
I use museum biological collections in my scientific research to explore how genotype, phenotype and the environment interact to affect the evolution and persistence of species through time. Previous projects have explored the rate and drivers of speciation in raptors and mammals, including extinct species like the Giant Eagle of Middle Earth and the Giant Beaver. In 2019, I began a collaboration investigating behavioral and physiological responses to rainfall variation in Grasshopper Sparrows at Konza Prairie in Kansas using stable isotopes. My social science research addresses the role of informal STEM learning institutions in advancing social good, particularly addressing the unique characteristics and motivations of visitors and how institutions can better support and connect with their communities in ways that promote larger societal endeavors.
I enjoy an active family life with three children and a border collie. We garden, play in our stream and woods, and do a wide variety of art and science projects.
Education
Ph.D., University of Michigan, Ann Arbor
M.S., University of Michigan, Ann Arbor
B.S., Bryn Mawr College
Professional memberships
Research projects
Students in my lab work on a variety of projects and study systems. We generally use molecular sequencing (DNA and RNA) to investigate the relationships among species or within populations, to study disease prevalence or to evaluate parenting systems. We primarily use museum collections and may be found in the modern lab working with our fresh tissue collection or in the ancient DNA lab in the museum working with our historical or subfossil specimens. Currently, we are working on a supermatrix analysis for booted eagles in the Accippitridae family. We are also delving into comparative genomics of the raptorial lifestyle. Budding projects include sequencing our giant beaver specimens, exploring parentage in sharp-shin hawks and continuing our analysis of West Nile Virus in salvaged bird specimens.
Students are encouraged to join my group and work on one of these projects or propose a new related project.
Off-campus study experiences
I lead a May term trip to the Hawaiian Islands. In this exciting experience, we explore the Hawaiian islands including snorkeling on coral reefs, hiking across lava flows, seeing birds of species that are extinct in the wild, participating in a paleontological dig and contributing to resource sustainability by removing invasive algae from a 400-year-old community fish pond. During the May term and the pre-trip semester-long seminar, students learn hands-on about (1) patterns of biogeography and extinction, (2) coral reef ecology, (3) conservation and management of native biodiversity, and (4) community-based sustainability practices. The program offers enrichment to studies in biology, environmental science and environmental studies.
Scholarly interest
I am interested in how genotype, phenotype and the environment interact to affect the persistence and evolution of species through time. I draw samples for study from museum collections and animals in the wild to address questions about speciation, rates of evolution, and adaptation. I am currently working on establishing the evolutionary history of Hawaiian Honeycreepers, including ancient extinct birds from fossil specimens, and addressing the evolution of the raptorial lifestyle using comparative genomics.
Published works
Lerner, H. R. L. (2011) Phylogeny and Taxonomy of BonelliÕs Eagle. In: BonelliÕs Eagle (ed. Hernandez VJ). SEO/BirdLife, Madrid Lerner, H. R. L., Meyer, M., Hofreiter, M., James, H. F., Fleischer, R. C. (2011) Multilocus resolution of phylogeny and timescale in the extant adaptive radiation of Hawaiian honeycreepers. Current Biology (cover, F1000 recommended)
Lerner, H. R. L. (2011) Eagle watchers: observing and conserving raptors around the world (Invited Book Review). The Wilson Journal of Ornithology 123:2
Lerner, H. R. L. and Fleischer, R. C. (2010) Prospects for next-generation sequencing in avian studies (invited reviewed commentary). Auk 127(1):4-15
Gjershaug, J. O., Lerner, H. R. L., and Diserud, O. H. (2009) Taxonomy and distribution of the pygmy eagle Aquila (Hieraaetus) weiskeii. Zootaxa 2326: 24-38
Lerner, H. R. L., Johnson, J. A., Lindsay, A. R., Kiff, L. and Mindell, D. P. (2009) Mitochondrial genetic diversity and differentiation among Harpy eagles (Harpia harpyja). PLoS ONE 4(10): e7336. doi:10.1371/journal.pone.0007336
Lerner, H. R. L. (2009) Raptor research and management techniques. The Wilson Journal of Ornithology 121 (1): 216-225.
Lerner, H. R. L., Klaver, M. and Mindell, D. P. (2008) Molecular phylogenetics of the buteonine birds of prey (Aves: Accipitridae). Auk 125: 304-315
Johnson JA, Lerner H. R. L., Rasmussen PC, Mindell, DP (2006) Systematics within Gyps vultures: a clade at risk. BMC Evolutionary Biology 6:65
Lerner, H. R. L. and Mindell, D. P. (2005) Phylogeny of eagles, Old World vultures and other Accipitridae based on nuclear and mitochondrial DNA. Molecular Phylogenetics and Evolution 37 (2): 327-346
Bunce, M., Szulkin, M., Lerner, H. R. L., Barnes, I., Shapiro, B., Cooper, A. and Holdaway, R.N. (2005) The evolutionary history of New Zealand's extinct giant eagle revealed by ancient DNA. PLoS Biol 3(1):e9