Art
The art major at Earlham College is unique because it emphasizes both contemporary craft media, such as ceramics, metalsmithing and fiber art, and more traditional media, such as drawing, painting and photography, along with art history.
Earlham's Center for the Visual and Performing Arts opened in 2014. This $22 million LEED-certified facility offers separate studio spaces for digital and analog photography, metals, ceramics, painting and drawing, fiber arts, and digital fabrication, each wired for multi-media presentation; plus an art history classroom.
92%
of work seekers who majored in the visual and performing arts between 2018-2022 were employed, pursuing graduate school or volunteering within six months of graduation.
Top ranked
Earlham's metals program was recognized by Halstead Bead as one of the best bachelor degree programs in the country for jewelry/metals and studio art.
Outcomes
Recent graduates have found jobs and fellowships at the Penland School of Crafts, Lionsgate, the Children's Museum of Manhattan, galleries, libraries and more. Some are entrepreneurs and business owners. Others have gone on to pursue advanced degrees at institutions such as School of the Art Institute of Chicago, Indiana University Bloomington and more.
"As a ceramics major, I deeply appreciate the people I get to meet in and around the studio. The studio space has allowed me to witness the joy and strength present within community. To find hints of my friends' work within my pieces and to see how their works reflect bits of mine is deeply rewarding. I have also had the fortune of connecting with the wider Earlham and Richmond community members with my ceramics by selling pieces at the local Farmer's Market, Earlham's Heart Market and at several ceramics department sales. My experience in the ceramics studio keeps sustaining my faith in community."
Prinshu Gautam '23
Art Major
"Judy Wojcik in the art department was such a great mentor for me. I wanted to have my  senior art show and do more art. I now know this is something I want to do for the rest of my life. I think people should come to Earlham to find themselves and find their medium, to try to figure out what they want to do with their lives. This community is quite special and one of  the best communities I've ever been part of."
JB Jarvi-Beamer '22
Art Major
"After I got to Earlham, I figured out that art was my plan and that I didn't need a back-up. There's a lot to be said for practicing art for an hour per day for an entire year."
Mia Kaplan, '18
Art major
"I got into metals totally by accident. I came into Earlham as a neuroscience major, right as a new registration system was being rolled out. Normally, metals class was over-enrolled and first-semester freshmen were asked to defer their spot for a semester, but I was able to enroll in time to make the accidental student cap–little did I know where it would lead."
Martin Moon, '13
Exhibitor at the Smithsonian Craft Show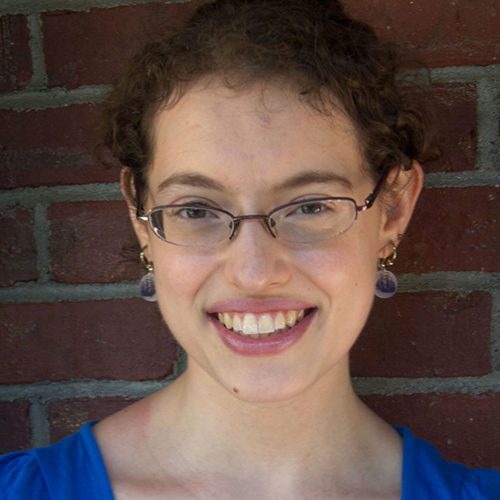 "I spent a long time at Earlham thinking really hard and doing a lot of soul searching, like 'What kind of artist do I want to be?' Then I had a revelation. I can't think about what kind of art I want to make. I have to actually be making art. I have to practice."
Laura Meilman, '10
Art major
Previous
Next
Artists with a historical context and a social mindset
Earlham's art program provides you with a solid foundation in technique while also providing larger social and cultural contexts for your art. Through the program, you are able to shape your path by choosing art history, ceramics, fibers, metals, painting and drawing, or photography as a primary concentration. The major culminates in a senior capstone experience, a project planned in consultation with faculty that includes an exhibition at an on-campus gallery, the presentation of a research paper, the curation of an exhibition or the completion of a community arts project.
State-of-the-art studios
As an art major, you'll choose to focus on either studio art or art history in your studies.
During your studio art classes, you'll create in beautiful, state-of-the-art spaces dedicated to ceramics, digital art, metalwork, painting and drawing, photography, and fiber arts.
Practical career experience
All art majors complete an internship or apprenticeship experience, providing you with real-world career experience as an artist.
Our faculty
Our faculty include award-winning artists who lead off-campus study programs and explore topics like sustainable use of materials and the cultural and historical contexts of art forms.
Program details
The art program at Earlham isn't just for majors and minors; many students from other departments also take courses in art, lending an interdisciplinary perspective to the classroom.
View our gallery of student work to see recent senior projects.
As a liberal arts college, Earlham offers multiple disciplinary and interdisciplinary majors and minors in which students cultivate deep and specific knowledge and experience. Equally important, the College expects every student to develop broad, general skills and proficiencies across the curriculum.
As part of their general education, students complete six credits in each academic division of the College: humanities, natural sciences, social sciences, and visual and performing arts. In addition, students meet requirements for first-year courses, analytical reasoning, perspectives on diversity and wellness.
To earn a Bachelor of Arts in Art, you must complete the following courses, in addition to general education requirements.
Requirements for the art major with a concentration in Studio Art:
ART 250 Making Art: Two studio courses, one each in a two-dimensional and three-dimensional medium. One of these can be in the area of focus. Studio offerings include classes in:

(Two-dimensional) Drawing, Painting, Photography, and Fibers
(Three-dimensional) Ceramics, Metals, and Fibers

Three Art History courses:

One 100-level Art History course
One 200-level Art History course
One 300-level Art History course

At least four courses (16 credits) in one area of focus

Internship or apprenticeship experience
Art 487 Senior Project (1 credit)
Art 488 Senior Capstone Experience (3 credits)
Total: 40 credits
For an Art Major with a concentration in Art History:
ART 250 Making Art
Two studio courses, one each in a two-dimensional and three-dimensional medium. One of these can be in the area of focus. Studio offerings include classes in:

(Two-dimensional) Drawing, Painting, Photography, and Fibers
(Three-dimensional) Ceramics, Metals, and Fibers Six

Art History courses, which must include:

Art 115 Art: Context and Meaning, part one
AND
Art 116 Art: Context and Meaning, part two

At least one 200-level Art History course
At least one 300-level Art History course
Internship or apprenticeship experience

Art 487 Senior Project (1 credit)
Art 488 Senior Capstone Experience (3 credits)
Total: 40 credits
Yes! To earn a minor in art, you must complete six courses (totaling at least 24 credits), which must include at least one course in Studio Art and at least one course in Art History.
There are a number of art-related programs at Earlham for interested students. Art majors and non-majors alike may consider:
Related applied minors
Related major/minor
Yes! The Rariden Scholarship is awarded annually to a student entering Earlham who is interested in pursuing an area within the visual and performing arts—art, music or theatre. Preference is given to a student from Wayne County, Indiana, although the selection committee will consider Indiana students from outside the county as well. The scholarship is $5,000 for each of a student's four years at Earlham, totaling $20,000.
Earlham's admissions counselors will screen applications from Wayne, Fayette, Randolph, Union and Franklin counties. The convener of the Visual and Performing Arts Division will send eligible applicants a letter and an information form in March. The form should be promptly returned to the Admissions Office.
Candidates will be contacted in April for interviews, and the winner will be notified by May 1.
In addition to this scholarship, Earlham offers additional talent-based scholarships for entering students. Be sure to include your interest and experience in art on your application of admission to be considered for these scholarships.
Art students have interned at museums, galleries and studios and apprenticed with artists all over the world.
Our faculty and the college's career coaches can help you identify the types of internships and apprenticeships that are the best fit for your future career goals.
Yes, absolutely! In fact, art students are strongly encouraged to take advantage of both semester-long off-campus programs and funded research experiences.
Almost all Earlham students participate in off-campus learning opportunities – and these experiences may help fulfill the requirements of your major or minor. Earlham also offers semester-long internship programs in Philadelphia and Washington DC, which include many exciting opportunities in the arts.
Learn more about off-campus study and internship opportunities via the Earlham Center for Global and Career Engagement.
You find joy through art—whether it's creating it or viewing it—and you want to hone your artistic talent and understanding. Maybe you want to use art to more thoroughly explore a topic that's close to your heart. Whether you find yourself majoring or minoring in art, or just taking a course or two, this program can expand your methods of expression and provide you with the tools to make art a part of your life.