Arts Management Applied Minor (AM)
The arts management applied minor develops leadership and organizational expertise for application to arts and cultural organizations by strengthening performing and visual arts with managerial and entrepreneurial skills.
The arts management applied minor aims to:
Build a bridge that empowers students in the arts with business skills that will be of use to them as independent contractors, arts administrators and future leaders in arts organizations.
Encourage global management students and those with an interest in entrepreneurship and innovation to develop their individual creative problem-solving and expression skills.
Help students to learn more about how these skills and can be combined in support of nonprofit arts organizations.
Students who don't feel that they start with either a business or arts mindset will develop analysis, organization, expression and creative problem-solving skills, as they gain practical experience in collaboration and project management.
Program Details
With the arts management applied minor, you will take a combination of global management and arts courses and gain practical experience working in the arts.
Applied minors (AMs) are distinctive programs allowing you to personalize your education and to help you make direct connections between academic interests and co-curricular activities.
To earn an applied minor in arts management, you must complete the following requirements.
Courses
Three of the following global management courses:

MGMT 141 World of Business
MGMT 200 Financial Accounting
MGMT 211 Leadership: Theory and Practice
MGMT 306 Ennovation Lab
MGMT 354 Entrepreneurial Marketing
MGMT 342 Leadership and Dealing with Differences
MGMT 361 Social Media and Marketing

Three arts courses, one of which must be an applied arts course.
Any music, visual arts and theatre arts course.
Please note: the first required theatre arts course is: THEA 250 Introduction to Theatre: Collaboration, Analysis and Expression. Theatre arts courses cross-listed with the humanities include:
THEA/ENG 359 Shakespeare and Social Problems
THEA/ENG 380 Theatre: Multicultural Theatre
THEA/ANCS 358 Greek and Roman Drama
Co-curricular activity
Complete one of the following co-curricular activities:
Employment with Earlham Office of Events – minimum 30 hours
Employment with Departments of Theatre Arts, Music or Visual Arts – minimum 30 hours – faculty/staff
A leadership position in a student-run arts organization – 1 semester
Gallery practicum
Fringe Theatre Festival Company participation – 1 production cycle
Volunteering with an off-campus arts organization – minimum 30 hours
Internship with an off-campus arts organization (if second internship) – minimum 30 hours
An arts & entrepreneurship May term – 3 weeks
Other experiences to be considered by petition
Culminating experience
Complete one of the following:
A reflective paper
A public presentation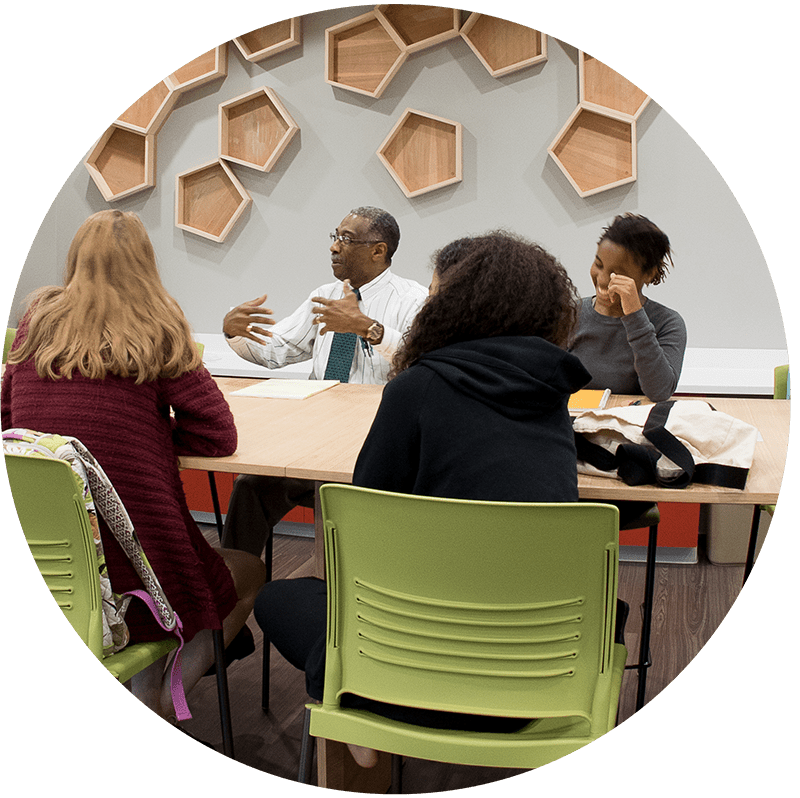 Our faculty
The director of the Center for Entrepreneurship, Innovation and Creativity and the conveners of the Departments of Global Management, Theatre Arts, Art, and Music provide a wealth of experience and a diverse range of perspectives to support your exploration of the arts and the business practices that support artists and the communities they serve.
Learn more about declaring your interest in an applied minor and find answers to other questions you may not even know you have.