Physics and Astronomy
The study of physics not only contributes to your understanding of the physical environment—it also develops your abilities to reason analytically and to test hypotheses. Physics and astronomy majors pursue careers in education, engineering or other technical disciplines, and other industries.
Earlham also offers a 3-2 pre-professional program in engineering, in which you'll take foundational science and distribution courses at Earlham for three years, then spend an additional two years earning an engineering degree at an accredited engineering school. This allows you to emphasize the liberal arts in your education while still obtaining the technical aspects of an engineering degree.
Top ranked
Earlham ranks 64th nationally (in the 95th percentile) in the percentage of graduates receiving Ph.D.s in physics.
Careers
According to the American Institute of Physics, top fields of employment for graduates with bachelor's degrees include engineering, computer or information systems, STEM-related jobs, and physics and astronomy, to name a few.
Outcomes
Recent graduates have been admitted to graduate programs in plasma and particle physics, engineering and planetary science. Others have gone on to become teachers, programmers or to work in the investment industry.
"I rediscovered my passion for physics while taking physics introductory classes for my pre-engineering major. I've always been interested in biological problems, and physics provides me with the tools I need to solve them, so I decided to make it my second major. And having supportive professors greatly helped me in navigating this in the limited time I had in the department.
Feven Naba '22
Physics and Astronomy Major
"Being a Physics Major at Earlham offers me an immersive experience in the classrooms. The classroom sizes and lecture styles focus my attention, and I can easily ask questions to clarify my understanding. I also learn to form bonds with classmates based on intellectual curiosity. These aspects, coupled with the love and attention of professors toward the students prepare me for the rigor of research and interpersonal interactions with lab peers during my journey toward pursuing my Ph.D. in Physics."
Wisdom Boinde '23
Physics and Astronomy Major
"Physics is the art of approximation. In physics, you have the natural world that you approximate using math, and this gives you beautiful insights into the outside world. I have learned that it's not about an answer, it's how close you get to the answer."
Rodoula Kyvelou-Kokkaliaris '15
Physics major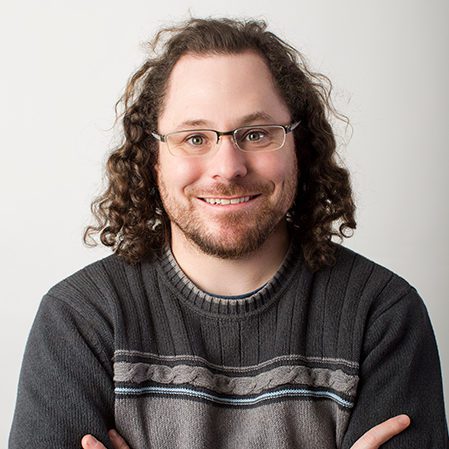 "I chose Earlham because Earlham students are good humans who want to do good in the world. I love seeing students come in loving physics, and figuring out what to do with that passion. Even more, I love seeing students in my introductory classes who had never been told that physics was for them, and seeing their eyes light up when they find out that it IS for them."
Michael Lerner, Ph.D.
Associate professor of physics
Previous
Next
Exploring the universe, from quarks to the cosmos
Many of these projects are interdisciplinary, involving mathematicians, computer scientists, biochemists and chemists working on the same projects. Others focus purely on physics, astronomy and cosmology. Still, others focus on decolonizing science.
Off-campus research
In addition to a variety of on-campus research opportunities, you can also do research off-campus through summer REU programs at institutions like Purdue University, the University of Michigan and the Ecole Polytechnique in Paris.
3-2 pre-professional engineering option
If you're interested in an engineering career, Earlham partners with other schools to offer a 3-2 pre-professional engineering program. Spend three years taking your foundational science courses at Earlham and two at an accredited engineering school.
Our faculty
Our faculty have broad interests ranging from cosmology to biophysics, to engineering. We create an inclusive environment that actively welcomes all Earlham students.
Program details
A physics major prepares students for careers in secondary education, engineering or other technical disciplines. Some of our students even go on to medical or law school, scientific consulting or other careers.
To major in physics and maintain flexibility in your schedule, you should consider beginning the introductory sequence in your first year.
If you have not previously taken calculus, you may be required to take MATH 180 during the fall semester of your first year. (It is possible to major in physics beginning in your sophomore year, but scheduling can get rather crowded.)
It is important that you plan your programs early, after careful consultation with your academic adviser about career aims, to maximize your opportunities for off-campus study or for completing a minor in addition to your physics major.
Earlham's Department of Physics provides information about career opportunities and currently active fields of specialization. Our graduates go on to teach, to work on wall street, to work in industry, to graduate school and to a variety of other careers.
Physicists or astronomers with a doctoral degree can do research in a field of their own choice — working in industrial, academic or government laboratories. Some industrial or government laboratories employ physicists or astronomers with a B.S. or M.S. degree in assisting capacities, and some of these help their employees in working toward higher degrees. If you are preparing for doctoral graduate work in physics, you should plan to take PHYS 350, 355, 360, 375, 425, 435, 445, 485 and 488, in addition to MATH 180, 280, 310, 320, 350 and CS 128.
If you're planning a career as a high school physics teacher, you should plan your programs carefully in consultation with both the education and physics faculty. In your course of study, you should include the introductory sequence and courses selected from PHYS 350, 355, 360, 375, 415, 425 and 445, and the necessary courses in education.
As a liberal arts college, Earlham offers multiple disciplinary and interdisciplinary majors and minors in which students cultivate deep and specific knowledge and experience. Equally important, the College expects every student to develop broad, general skills and proficiencies across the curriculum.
As part of your general education, you will complete six credits in each academic division of the College: humanities, natural sciences, social sciences, and visual and performing arts. In addition, you must meet requirements for first-year courses, analytical reasoning, perspectives on diversity and wellness.
To earn a Bachelor of Arts in Physics, you must complete the following courses, in addition to general education requirements:
PHYS 125 Matter in Motion (with Calculus)
PHYS 235 Electromagnetism, Optics and Waves (with Calculus)
PHYS 345 Introduction to Modern Physics
PHYS 355 Advanced Physics Laboratory
PHYS/MATH 360 Mathematical Methods of Physics
PHYS 480 Senior Seminar
PHYS 488 Senior Capstone Experience
Three courses (or more if necessary for a total at least 9 credits) from other Physics courses
numbered 300 – 480. Courses between 481 and 487 may be counted toward the major
with permission from the Department.
And these Mathematics courses:
MATH 180 Calculus A
MATH 280 Calculus B
MATH 320 Differential Equations
MATH 350 Multivariate Calculus
Yes! To earn a minor in physics, you must complete the following courses:
PHYS 125 Analytical Physics I: Mechanics
PHYS 235 Analytical Physics II: Electricity and Magnetism, Optics and Waves
PHYS 345 Introduction to Modern Physics
One other Physics course numbered 300 or above
MATH 180 Calculus A
MATH 280 Calculus B
Earlham's 3-2 pre-professional engineering option provides a wonderful opportunity if you're considering a career in engineering but also want the experience of a broad, liberal arts education that is seldom available in engineering schools.
By combining three years at Earlham with two years at an engineering school, you can emphasize the liberal arts as well as the technical aspects of your education.
The Earlham pre-engineering program permits you to complete the B.A. degree requirements at Earlham and the engineering requirements at a professional engineering school with the aim of becoming a practicing engineer in industry, government or at a university.
Typically this type of program involves three years at Earlham studying fundamental science and the liberal arts, followed by two years of specialization at an affiliated engineering school. At the end of those five years, you will receive two degrees: a B.A. from Earlham in pre-engineering studies and a B.S. from the engineering program.
Pre-engineering requirements in the sciences depend on the engineering program to which you transfer, but most programs have requirements such as these:
One year of physics (PHYS 125, 235)
One year of chemistry (usually CHEM 111, 331)
Mathematics through Differential Equations and Multivariate Calculus (MATH 180, 280, 320 and 350)
One semester of computer programming (CS 128)
Some programs include additional courses such as economics (required by Columbia) or additional courses in biology, chemistry or electronics (if you have a particular interest such as biomedical or electrical engineering).
Yes! We strongly encourage you to speak with your faculty adviser as early as possible about your interest in off-campus study. This allows your adviser to help you create a four-year plan that incorporates an off-campus semester into your coursework. The Oak Ridge Science Semester is also an excellent option if you wish to spend a semester off-campus.
Through our 3+1 Education Program, you can earn a Bachelor of Arts (B.A.), Master of Arts in Teaching (M.A.T.) and teaching license—all in just nine semesters.
You'll leave Earlham with two degrees, licensed to teach grades 5-12 in Indiana. (And it's easy to transfer your license to other states—many of our graduates do!)
Physics majors are problem solvers. They love learning how things work in the physical world and using that knowledge to test new hypotheses and make discoveries.
If you're considering a career in engineering, scientific research or physics education, the physics major could be the right option for you.