Computer Science
Studying computer science at Earlham balances theory and practice to help you achieve a well-rounded understanding of computing. As a student in the computer science program, you'll learn to develop software, think about computing systems and understand relationships between computers, people and society.
This foundation will prepare you to study advanced computing in cybersecurity, game design, system administration or software engineering. The program culminates in a senior capstone experience, in which you'll create a project that showcases your achievements in computing.
Start your adventure
Sign up for more information about Earlham College.
91%
of work seekers who majored in the natural sciences between 2018-2022 were employed, pursuing graduate school or volunteering within six months of graduation.
Skilled
Our Green Science group designed and built our first solar charging station. Now anyone in the community can charge their devices using solar energy!
Outcomes
Computer science students tend to gravitate toward careers as software developers and engineers. Recent grads are working for companies such as Microsoft, Bloomberg, Etsy and Viagogo. Some are also pursuing advanced degrees at institutions such as Carnegie Mellon University, University of Michigan, University of Texas at Austin and more.
"The computer science major has developed a lot over the last 4 years and it now has several areas of focus. I also wanted to branch out more into humanities classes during my time at Earlham. I took many classes outside my major that have completely shaped my life, my view of the world, and what I want to do with my computer science skills. I want to help reduce suffering in people's lives and create political and social change by working with activist collectives, helping wherever my computer and social skills can."
Jarred Costa '22
Computer Science Major 
"I didn't think I was Google material. Now come and watch me participate in corporate America. I'm not in tech to make money. There are easier, more sure-fire ways to make money. I see computer science as an opportunity to use something really powerful to help people."
Chau Pham '19
Computer science major
Software engineer at Google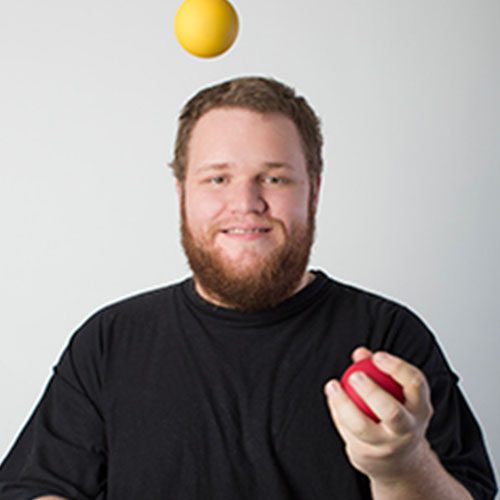 "The applied groups and the research opportunities allow you to take what you learn in class and apply it to real-world situations. This type of work is not graded work that you hand in. We work toward a desired end, and it either works or it doesn't."
George Crowson '16
Computer science major
Previous
Next
Theory, abstraction and design
As a computer science major, you'll be encouraged to consider off-campus study as part of your academic career. The computer science program requirements and course schedule are designed to accommodate one, and in some cases, two semesters of off-campus study. Computer science majors have studied in Australia, England, Germany, Japan and Scotland. In addition, you will have the opportunity to study at one of the national laboratories, such as Oak Ridge National Laboratories and Fermi National Accelerator Laboratory.
State-of-the art facilities
The home for our program on campus is the Center for Science and Technology (CST), which includes a mixture of open spaces for collaborative work and private spaces for personal study. We run three flexible lab spaces and one hardware workshop, all designed to support your learning experience.
Applied research
Join an applied science group to use what you've learned in the classroom to solve real-world computing problems.
Our faculty
Our faculty have a passion for teaching you the computing and collaboration skills you need to succeed.
Frequently asked questions
The computer science program prepares you for a wide spectrum of opportunities after graduation, including graduate studies in computer science and work in a variety of technology positions starting right after graduation.
Our students who choose to enter the industry become database administrators, cybersecurity specialists, IT project managers, software developers, web developers, data scientists and founders of successful tech startups.
They work in a wide variety of organizations ranging from small local companies to large international corporations. Our students who choose to go to graduate school have become successful university teachers and researchers.
Recent internships include an array of organizations and industries: local and national government, banking, pharmaceutical research, manufacturing and distribution, civil and environmental engineering, consulting firms, and insurance and software companies.
Students have interned at large companies like Amazon, Google, Microsoft and a host of smaller companies across the US and the world. Locally, we partner with TechPoint in Indianapolis and DoxPop and Green Filing here, in Richmond. Some of our graduates go on to be a significant part of tech-startups, often as a part of the founding group.
There's no one right way to know if the computer science major is the best choice for you. Successful students come from a variety of backgrounds and interests. Some have an existing interest and aptitude in mathematics or programming. Others have a passion for the natural sciences, social sciences, or humanities and develop a deep understanding of computer science to solve problems in those spaces.
If you are interested in solving problems, understanding systems or building new things- even if you've never programmed before-computer science might be the right choice for you.