Biochemistry
Earlham's biochemistry program will prepare you for a career in medicine, research or biotechnology.
With combined studies in chemistry and biology, biochemistry is particularly well-suited to students who are planning to attend medical school or veterinary school, or who want to enter public health and other health science fields.
The biochemistry major provides students with a solid foundation in cell biology, molecular biology and chemistry with a strong emphasis on research and hands-on learning.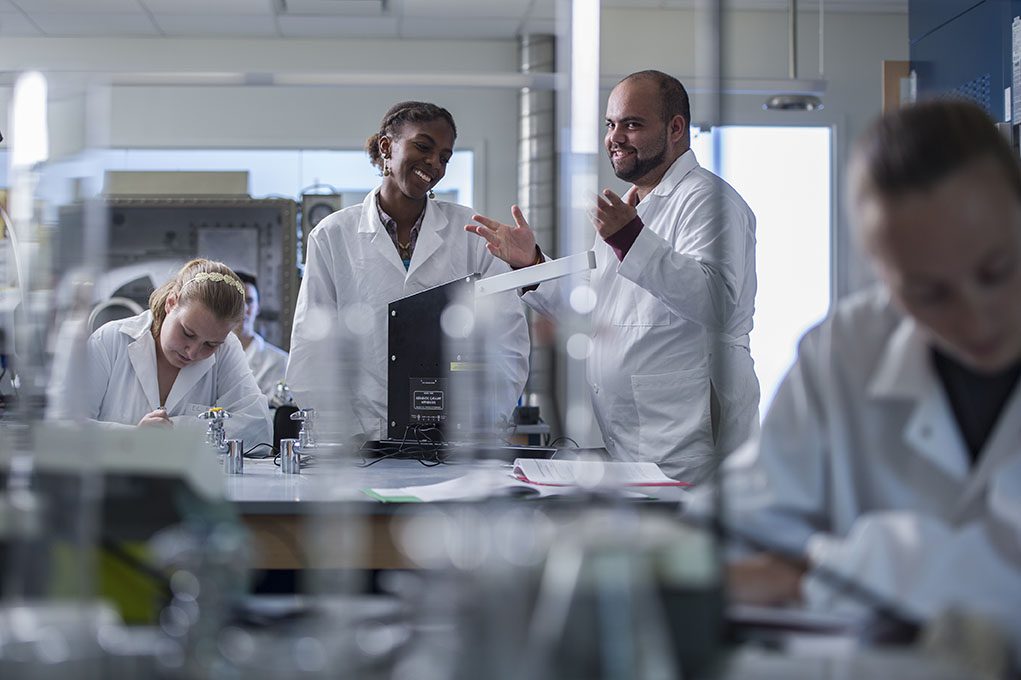 97%
of biochemistry majors from the classes of 2017-2019 were working or in grad school within six months of graduation.
26%
of biochemistry majors from the classes of 2017-2019 were in graduate, medical, or veterinary school within six months of graduation.
Outcomes
Top jobs for 2017-2019 graduates were in research, lab work/science, healthcare services, and environmental/sustainability management.
"Majoring in Biochemistry is a wonderful opportunity for students, such as myself, who are interested in a career in medicine. My passion for becoming a surgeon drives me to pursue this major as it prepares me well for Medical School after Earlham. The major ensures that all the general requirements for Medical School admissions are being met. I already love the various classes and the multiple opportunities I have taken."
Ahmed Deeb '23
Biochemistry Major 
"My advisers are excellent guides, telling me exactly what I need to do to be competitive for medical schools."
John Sakaleros, Class of '20
Biochemistry major
"Earlham is a place where spending time with students doing quality research is highly valued. Our undergraduates gain valuable research skills while making important contributions to the pipeline for vaccine discovery."
Peter Blair, Ph.D.
Associate professor of biology
Previous
Next
Forging solutions to world problems through collaborative research
The interdepartmental biochemistry program at Earlham College is accredited by The American Society for Biochemistry and Molecular Biology (ASBMB) and the biochemistry major lays the foundation for your career in science. In fact, Earlham ranks in the top 10 in the U.S. for the percentage of graduates who earn doctorates in the life sciences.
Off-campus study
Biochemistry majors are encouraged to study off campus. Our science faculty have led off-campus programs to Tanzania, England, France, Iceland and New Zealand.
Funded internships
Our students have access to funded internships at locations such as the Herman B. Wells Center for Pediatric Research and the Indiana University School of Medicine Stark Neuroscience Research Institute.
Our faculty
Our faculty have published in a wide variety of peer-reviewed journals and have been funded by both government and private institutions.
Program details
The biochemistry program at Earlham provides you with exceptional preparation for seeking careers in medicine, research and biotechnology, just to name a few.
If you are interested in majoring in biochemistry, you should speak with a faculty member in the biology or chemistry departments early in your undergraduate career.
Faculty will help lay out a four-year plan that includes required courses, elective courses, opportunities for off-campus study, and possible internships. Early consultation is important to the sequencing of several courses so that off-campus study remains an option. In general, you should take CHEM 111 in your first semester, and CHEM 221 and BIOL 112 in your second semester.
As a liberal arts college, Earlham offers multiple disciplinary and interdisciplinary majors and minors in which you will cultivate deep and specific knowledge and experience. Equally important, the College expects you to develop broad, general skills and proficiencies across the curriculum.
As part of your general education, you must complete six credits in each academic division of the College: humanities, natural sciences, social sciences, and visual and performing arts. In addition, you must meet requirements for first-year courses, analytical reasoning, perspectives on diversity and wellness.
To earn a Bachelor of Arts in biochemistry, you must complete the following courses.
All of the following chemistry courses:
CHEM 111 General Chemistry
CHEM 221 Organic Chemistry I
CHEM 321 Organic Chemistry II
CHEM 331 Equilibrium and Analysis
CHEM 351 Biochemistry
One of the following in chemistry:

CHEM 341 Thermodynamics and Kinetics (recommended)
CHEM 361 Inorganic Chemistry
CHEM 371 Environmental Chemistry and Toxicology
CHEM 431 Advanced Analytical Chemistry
Other special courses as offered by prior arrangement with chemistry faculty

Both of the following biology courses:

BIOL 112 Cells, Genes and Inheritance
BIOL 341 Cell Physiology

At least one course from each of the two lists that follow, totaling at least 7 credits:

Choose one from:

BIOL 226 Biological Diversity
BIOL 384 Developmental Biology
BIOL 460 Plant Cell Biology
BIOL 461 Microbiology
BIOL 462 Parasitology

Choose one from:

BIOL 343 Immunology
BIOL 345 Anatomy and Physiology I: Nervous and Endocrine OR
BIOL 347 Anatomy and Physiology II: Cardiovascular, Respiratory, Renal and Digestive
BIOL 351: Human Genetics and Genomics
BIOL 383 Bioinformatics
BIOL 464 Advanced Cell Physiology
BIOL 465 Advanced Cell Physiology Laboratory
BIOL 466 Molecular Genetics
Other special courses as offered by prior arrangement with biology faculty

MATH 180 Calculus A OR MATH 120 Elementary Statistics OR MATH 300 Advanced Statistics OR PSYC 245 Research Methods and Statistics
Either PHYS 125 and 235 Analytical Physics I and II (recommended); OR PHYS 120 and 230 General Physics I and II
Either BIOL 480 Biology Senior Seminar OR CHEM 480 Chemistry Senior Seminar
An independent research project is also required. This may be accomplished as an independent study in biology or chemistry, as a summer research experience on-or off-campus, as an approved Ford/Knight Research Project. Careful early planning with your adviser will determine the best option for your research experience. A presentation of the research in a public forum is expected.
Comprehensive examinations must also be successfully completed.
Note: Students with AP, IB or transfer credits in chemistry, biology, physics or calculus should be in contact with a faculty member in a related program.
Biochemistry majors are strongly encouraged to plan for an off-campus study semester. Talk to your adviser early in your college career to plan for this. Science faculty frequently lead off-campus study semesters as well as summer research projects in places like Peru, the Dominican Republic and Iceland.
If you're interested in working in healthcare, lab research or biotechnology, the biochemistry major will lay the groundwork for your future career. This is an interdisciplinary major that includes both biology and chemistry coursework, allowing you to gain a more complete understanding of how the two work together, particularly in human and animal health.
Graduates of the biochemistry program often go on to medical or veterinary school, or enter the public health or other health science fields.