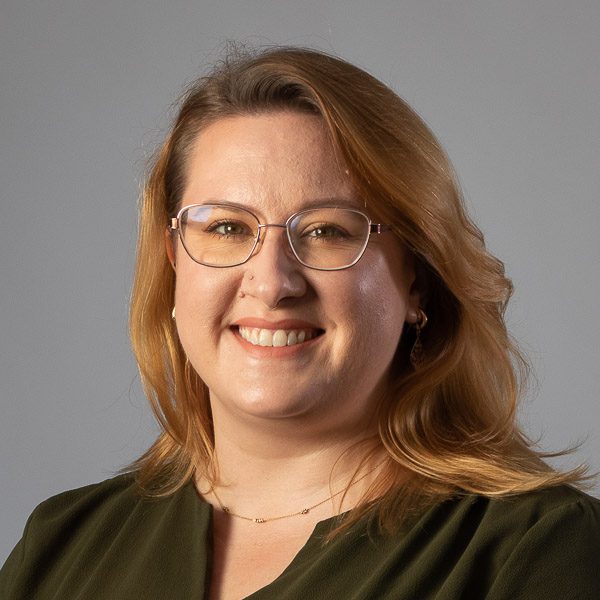 Kristen Wroth, Ph.D.
Chemistry lab manager; Chemical hygiene officer
Phone:765-983-1623
Email:[email protected]
Pronouns:She/her/hers

Location: Stanley Hall 253
801 National Road West
Richmond, IN 47374
About me
I am an archaeological scientist who explores the intersection between archaeology, chemistry, and biology! I love all things lab related, so you'll currently find me managing the labs of the Chemistry Department and working to make the campus safer by understanding and organizing our chemical hygiene plan. When I'm not in the lab, I enjoy making things of all kinds, spending time with my pets, and getting out into nature!
Education
Ph.D., Boston University
B.A., Dickinson College
Scholarly interest
My specific research centers on phytoliths, microscopic silica structures in plants, and how we can use them to reconstruct ancient environments and lifeways. These small silica remains preserve in a huge variety of situations and we can extract them from sediments, residues left behind in artifacts, and even from places like dental plaque from humans or animals! By understanding what kind of plants existed in the past, we can build a picture of past vegetation communities and examine how people used plants in so many parts of their lives.
Because the plant parts I work with are microscopic, I also employ sediment micromorphology to give my analyses important context. We collect blocks of sediment, use a resin mixture to consolidate and harden the block, slice it very thin, and then put it on a microscope slide. We can then see exactly how each part of the sediment relates to the others and where things like phytoliths or other ancient plants might fit in!
Published works
Wroth, Kristen, Chantal Tribolo, C. Britt Bousman, Liora Kolska Horowitz, Lloyd Roussow, Christopher E. Miller, Michael B. Toffolo. "Human occupation of the semi-arid grasslands of South Africa during MIS 4: New archaeological and paleoecological evidence from Lovedale, Free State" Quaternary Science Reviews, 2022, 283, 107455.
Richard, Maïlys, Edqige Pons-Branchu, Raanan Carmieli, Ifat Kaplan-Ashiri, Ana Isabel Alvaro Gallo, Giulia Ricci, Luisa Caneve, Kristen Wroth, Arnaud Dapoigny, Chantal Tribolo, Elisabetta Boaretto, Michael B. Toffolo. "Investigating the effect of diagenesis on ESR dating of Middle Stone Age tooth samples from the open-air site of Lovedale, Free State, South Africa" Quaternary Geochronology, 2022, 69, 101269.
Scherer, Sascha, Benjamin Höpfer, Kathleen Deckers, Elske Fischer, Markus Fuchs, Ellen Kandeler, Eva Lehndorff, Johanna Lomax, Sven Marhand, Elena Marinova, Julia Meister, Christian Poll, Humay Rahimova, Manfred Rösch, Kristen Wroth, Julia Zastrow, Thomas Knopf, Thomas Scholten, Peter Kühn. "Middle Bronze Age land use practices in the northwestern Alpine foreland – A multi-proxy study of colluvial deposits, archaeological features and peat bogs" SOIL, 2021, 7, 269-304.
Wroth Kristen, Dan Cabanes, John M. Marston, Vera Aldeias, Alain Turq, Paul Goldberg, and Harold Dibble. "Neanderthal plant use and pyrotechnology: phytolith analysis from Roc de Marsal, France" Archaeological and Anthropological Sciences, 2019, 11, 4325-4346.