Leadership Applied Minor (AM)
The applied minor in leadership provides you with a foundation in ethical leadership and decision-making, a skillset highly sought by today's employers.
Program details
This applied minor will introduce you to interdisciplinary ways of thinking about leadership, ethics, morality and decision-making, and help you integrate what you are learning in the classroom with your co-curricular activities.
Applied minors (AMs) are distinctive programs allowing you to personalize your education and to help you make direct connections between academic interests and co-curricular activities.
Courses
The following course is required:
MGMT 211 Leadership: Theory & Practice
Three of the following courses:
AWPE 308 Stables Instructor Program
EDUC 221 Outdoor Trip Leadership
EDUC 310 Experiential Education
ENG 309 Prophetic Black Women
ENG 353 Topics in Peace and Justice
ENSU 141 Environment, Society and Sustainability
HDSR 239 Persons and Systems
MGMT 312 Leadership and Change
MGMT 342 Leadership and Dealing with Differences
MGMT 368 Business Communication
MUSE 224 Uses and Abuses of Museums
PAGS 342 Conflict Resolution
PSYC 356 Psychology of Prejudice
THEA 270 Theatrecraft
THEA 333 Applied Theatre: Assistant Stage Manager
THEA 335 Applied Theatre: Master Electrician
THEA 339 Assistant Designer
Any Ford/Knight research course concerning issues of leadership
Co-curricular activity
You will also complete one of the following co-curricular activities:
Participation in the Bonner Scholars program for at least two years
Participation in Quaker Fellows program for at least two years
Student leader of Model UN for at least one year
Outdoor Education Student Leader Training for at least one year
Resident Assistant Training and work for at least one year
Earlham Student Government for at least one year
Student event manager for at least one year
Leadership position in theater production for at least one production
New Student Orientation Leadership Group for at least one year
Convener of a student group for at least one year
Barn staff position for at least one year
Captain or leadership position on an athletics team for at least one season
Culminating experience
You will complete one of the following:
An integrative reflection paper that describes current knowledge of leadership in general and own skills and development gained through applied minor experiences.
A significant public presentation on or off-campus such as a presentation of learning, a presentation at college meeting for worship or a conference presentation related to leadership.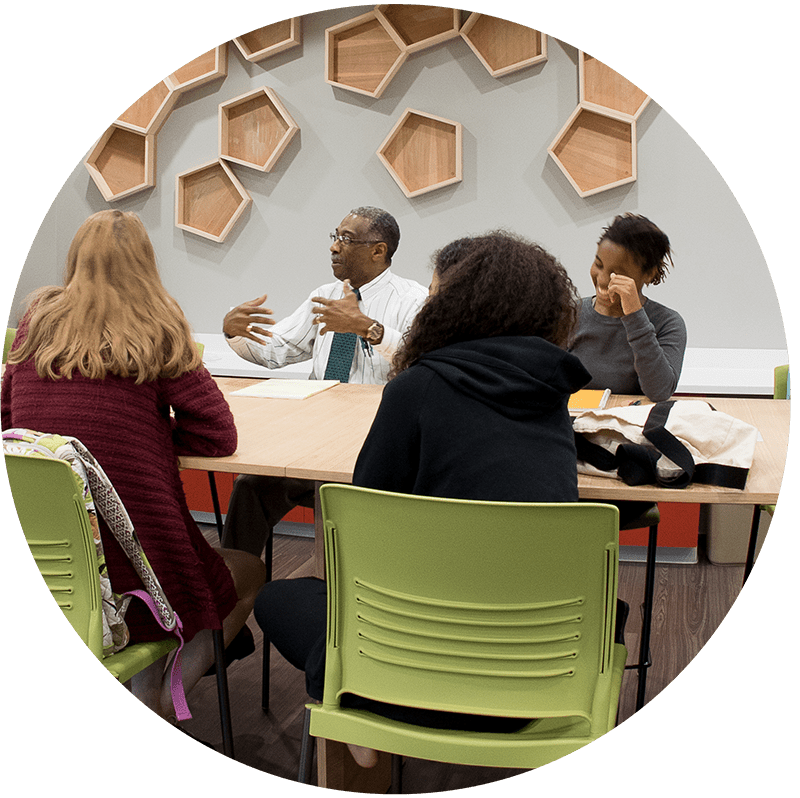 Our faculty
Our faculty will prepare you for the job market to leave Earlham with a clear designation that you possess the marketable skill of leadership that employers seek.
Learn more about declaring your interest in an applied minor and find answers to other questions you may not even know you have.